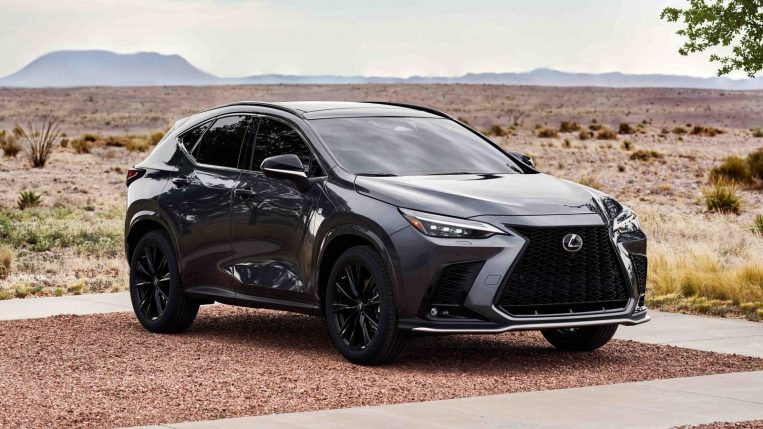 The Lexus NX has been a solid player in the hotly contested compact luxury SUV segment, but its rivals like the Mercedes-Benz GLC, BMW X3, and Audi Q5 have been upping the ante. In its first major redesign since its introduction as a 2015 model, the 2022 Lexus NX has learned some lessons from its rivals. And it answers back with a few extra twists.
The all-new NX is larger, with a sleeker roofline and a new take on the bold spindle-shaped grille. In addition to its more chiseled looks, the rear deck now sports the Lexus brand name in large letters. Though it spells out its name on the hatch, Lexus continues to use the stylized L logo on the front grille and wheel caps.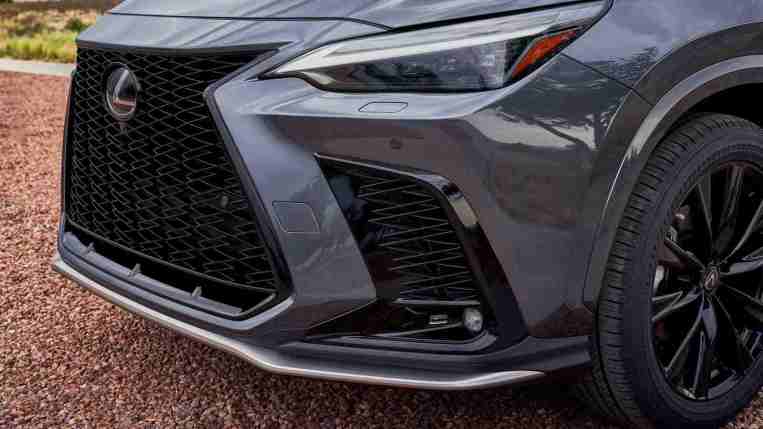 New Underpinnings
More important than the exterior styling is the all-new platform beneath the vehicle. The Lexus GA-K architecture employs an independent front and rear suspension. It includes a base 2.5-liter naturally aspirated 4-cylinder engine and a new turbocharged engine, both with 8-speed automatics. The hybrid option is expanded to include both a conventional gas/electric setup and a plug-in version. The latter offers up to 36 miles of pure EV range.
While the first-gen NX could be considered a more luxurious version of its Toyota RAV4 sibling, this time around, it comes off as a cut above and is more in line with the new 2021 Toyota Venza, which is a larger, sportier take on the compact SUV genre.
2022 Lexus NX Pricing
While the 2022 Lexus NX price is not available, we expect it to start at about $40,000. The 2021 Lexus NX 300 starts at $37,610 in FWD and $39,010 in AWD.
The NX 450h+ will cost more but will also be eligible for a federal tax credit. The F Sport package also returns, and these models will likely carry a sticker in the high $40,000 range. Current destination charges add $1,025.
Official pricing should come closer to the 2022 Lexus NX on-sale date later this summer.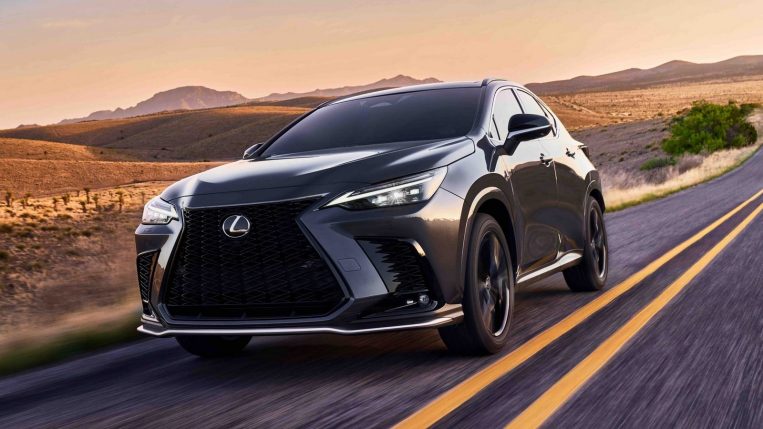 Four Models, Plus F Sport Package
The 2022 Lexus NX model range consists of four main variants: the NX 250, NX 350, NX 350h, and NX 450+. All models are available in F Sport trim, which includes a tauter adaptive suspension, performance shock absorbers, 20-inch wheels, and exterior and interior upgrades. AWD is standard on all models except the base front-drive NX 250.
The NX 250 employs a 2.5-liter normally aspirated 4-cylinder engine making 203 horsepower and 184 lb-ft of torque. The FWD version accelerates to 60 mph in 8.2 seconds, while the optional AWD setup clocks in at 8.6 seconds.
Powering the NX 350 is a new 2.4-liter turbocharged 4-cylinder engine. Up in displacement from the previous model's 2.0-liter turbo, the new engine delivers 275 horsepower and 317 lb-ft of torque. It mates to a new 8-speed automatic transmission and is capable of 0-60 mph in 6.8 seconds, a half-second quicker than the model it replaces.
The NX 350h hybrid uses a normally aspirated 2.5-liter 4-cylinder engine with two electric motors, one on each axle, to provide all-wheel drive. The gas/electric combination delivers 239 horsepower and 0-60 mph acceleration of 7.2 seconds, 1.5 seconds quicker than the previous generation. Lexus estimates a combined rating of 36 mpg, an increase of 6 mpg overall.
Also new is the NX 450h+ plug-in hybrid version. Using the same 2.5-liter engine from the NX 350h, the NX 450h+ employs a larger battery pack and more powerful electric motors to deliver 6-second 0-60 mph performance. Lexus says that the NX PHEV is capable of 36 miles of pure electric range. With Level 2 240-volt charging, the NX battery pack can be replenished in about 2.5 hours using an optional 6.6 kW Expedited Onboard Charger. The standard charging setup allows for a full recharge in 4.5 hours also on a Level 2 outlet.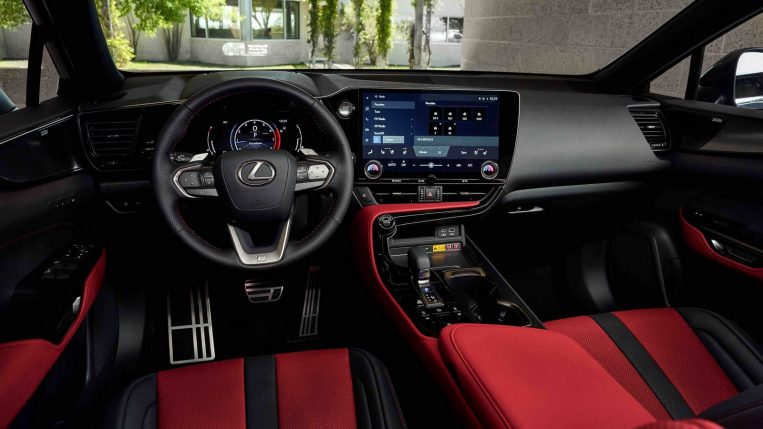 Driver-oriented cabin
The new interior of the 2022 Lexus NX features a driver-oriented design. The center infotainment display cants slightly toward the driver. Behind the steering wheel is a 7-inch multi-instrument display panel, while a larger 10-inch head-up display projects onto the windscreen.
The standard infotainment measures 9.8-inches diagonally, while there's an optional 14.0-inch display that takes full advantage of the all-new Lexus Interface that also boasts virtual assistant capabilities. Other features include wireless device charging, wireless Apple CarPlay/Android Auto interface, digital key capability, and over-the-air system updates.
Other upgrades as part of the redesign are a more generous cargo area and greater head and legroom. Heated front seats are standard, while heated rear seating positions are optional. Also available for the first time on the NX is a 2-panel  panoramic moonroof. The 2022 Lexus NX also offers optional Thematic Ambient Illumination that includes 14 themes and 64 colors for cabin lighting.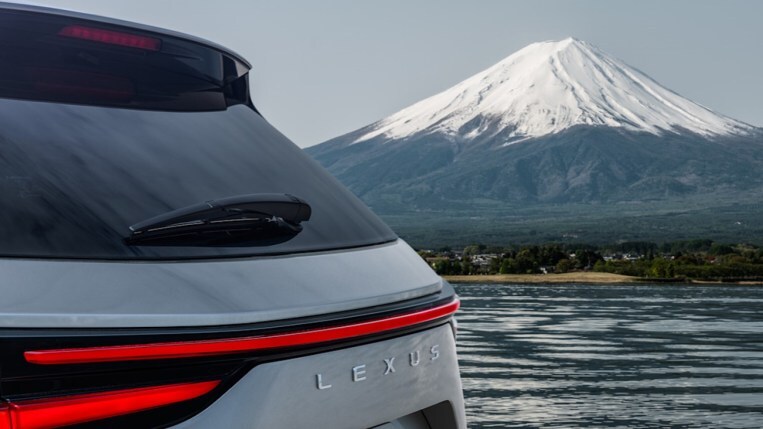 Safety Upgrades
As part of the redesign, the 2022 Lexus NX incorporates the latest iteration of the division's suite of driver and safety assists. Lexus Safety System+ 3.0 adds risk avoidance emergency steer assist, left-turn oncoming vehicle detection/braking, and pedestrian detection braking for both left and right turns. There's also a new oncoming vehicle detection added to the standard pre-collision system with automatic braking. Meanwhile, the adaptive cruise control now has curve speed management.
Thanks to the electronic door latch system, NX also adds a disable feature for the doors to prevent them from opening in the path of oncoming cars or cyclists. Also available is a rearview mirror with a digital image mode.